Ah, beer. What is a vacation without some? Don't ask me. Or Andy. We wouldn't know the answer!
As you probably know by now, Andy and I are *avid* craft beer drinkers, and always like to research local breweries when we go on vacation, and Vegas was no exception!
A quick scan of Beer Advocate shows 16 local breweries and even more pubs and eateries. After some research, we decided on Banger Brewing, located in "old" downtown Las Vegas on Fremont Street.
A short Uber ride from the strip, downtown Vegas has a unique and charming feel. We went during the day on Friday. Banger Brewing has a nice little outside dining area, and a beautiful inside chock full of board games to play and merch for sale.
In an effort to try as many beers as possible without…dying, we each got a flight of 4 beers. I got the Sandia (watermelon wheat), Hop Bang Boom (imperial IPA), Van Damme (belgian golden), and the Black Eye PA (black IPA).
The Sandia was delicious – not too fruity, but really crisp and refreshing. The Hop Bang Boom was SO good, because Citra hops are just so so so good. The Van Damme was the most different, and maybe my favorite. Just a little sweet, with serious hints of clove and banana notes. So different, but so tasty! The Black Eye PA was not what I expected. Heavier than most IPAs and when you look at it, you think you're drinking a dark, heavy beer, but it definitely has a bitter, hoppy IPA taste.
Andy also got the Hop Bang Boom and Black Eye PA, but he also got the El Heffe (jalepeno hefeweizen) and Morning Joe (coffee kolsh). The Morning Joe smelled exactly like coffee, and tasted much like Carton's Regular Coffee.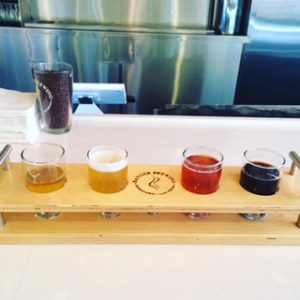 I did not try the El Heffe, but according to Andy:
"It was really good. It was spicy, but it wasn't hot. It was very good."
He's a man of few words, but he knows his beer. I'll let him add more in the comments if he so chooses.
Banger's website has more information about these delicious beers, and we've since started following them on social media and they have a lot of cool stuff going on.  Like, a $30 drink all day deal. Definitely check them out if you're in the area!
Score: 4.5 from us both.
Pictured: Morning Joe, El Heffe, Hop Bang Boom, Black Eye PA