Happy December! I hope everyone had a fabulous Thanksgiving with family and friends (and no talk of politics)!
Thanksgiving is the one holiday that Andy and I don't spend together. For now, while we are not married and without kids, we divide and conquer on Thanksgiving. It's my mom's favorite holiday and also always around her birthday, so I always like to spend it with her. Plus, we, along with my brother, have very specific traditions. Like prepping the night before, and watching the parade in our jammies. It's the best.
Anyway, my mom is like, THE QUEEN of Thanksgiving. She loves to cook a feast, even if it's just four of us. She makes a big turkey, stuffing, mashed potatoes, two kinds of sweet potatoes/yams, plus corn, pearl onions, turnips, peas, biscuits and gravy… I am sure I am forgetting something! Even in years where we went to see family, my mom always cooks a full feast, just to have it as leftovers. She doesn't like other people's leftovers and wants to know she can come home to her own food. Luckily, the last few years, we've enjoyed a quiet holiday at home with the parade and football and even some Christmas music (she is a strong believer in limited Christmas festivities until after Thanksgiving but she lets us put music on!) and wine and laughing. I usually spend a night there to make it a great visit at home and also spend time with Molly (and do laundry).
So, back to the food. Since mom and Christian make a feast (he handles the stuffing and mashed potatoes like a pro), I usually stick to dessert and appetizers. This year, I made two Paula Dean recipes that I haven't made in years and was excited to bring back to my holiday menu.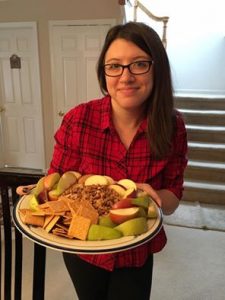 Sugar and Nut Baked Brie 
Here is the link to the full recipe. A few things – I substitute the brandy with either apple juice or apple cider because I never have brandy around. Otherwise, it's super easy. Bake the brie and mix the topping per the recipe. I love baked brie recipes. So easy and so delicious and I have one for every holiday!
Old-Fashioned Sweet Potato Pie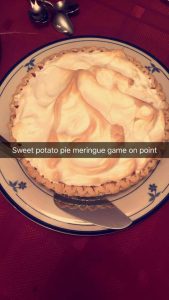 Here is the link to the full recipe. I love this pie recipe. My tip? I do not wash and peel all of those sweet potatoes. That's a big hell no. ShopRite (and I am sure other grocery stores) sell pre washed, peeled and cubed sweet potatoes. One package fits with the recipe. You just rinse them and boil them and you're already ahead of the game! But, if you prefer to peel and chop, more power to ya! Also, making the meringue is my favorite part. It's fun, and yummy and really adds something to the pie. The pie is rich and dense and the topping is so light and fluffy!
So, I am wondering. What are your favorite things to make on Thanksgiving? Do you stick to a traditional menu or try new things each year?