For those of you who know me, you know that I have a slight obsession with Christmas, and the whole holiday season to boot. I thought that I would share just a few of my favorite traditions and how I make sure to keep them going each year.
The Polar Express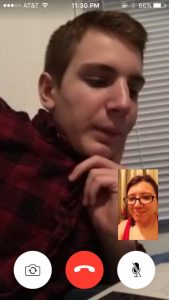 When it comes to Christmas, I am a kid at heart. And I'm proud to say that so is my brother, who is just a few weeks shy of turning eighteen. Every year since he was a wee tot, we read The Polar Express on Christmas Eve. Even in the years since I've moved out that we can't be together, we read it over FaceTime before bed or earlier in the night.
We also watch the movie together every year with a mug of hot chocolate. It's just something we have to do. For the past few years, we've seen information about the rail line in Whippany (and elsewhere) that does the Polar Express rides, but never acted on it. Until this year! Guess who is going on December 30 for Christmas this year? Hint: It's me, Christian and mom!
Also, Christian and I have been dying to get our hands on the Lionel Train Polar Express set. When we were younger (aka me being a teenager and him being a kid), we asked mom for it and it was too expensive. But years later, it doesn't cost as much. I also realized that I am an adult now and can buy my own toys! So, I bought it. We are so excited that this year we can set up our train set and agree on a custody plan for Christmases to come.
Baking with Mom
For as long as I can remember, my mom and I have spent a day together baking for Christmas. We have never missed a year. When I was younger, she'd let me miss school or leave early so we could spend the day making classic cookie recipes and also trying out recipes from my American Girl magazines.
To this day, we make our list and put on the music (and for the past several years, open a bottle of wine) and bake our Christmas cookies to enjoy for desserts, give as gifts, and of course – put out for Santa (yes, my mom and brother still do at their house, and so do Andy and I!).
Baking with my mom (and Christian, when he wants to help) is probably my most treasured tradition I have when it comes to Christmas.
Christmas Eve (With the vest and The Grinch)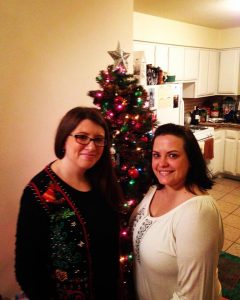 Christmas Eve is an Albanese family tradition. I guess it started before me and my cousins were born, back when The Aunts used to host. In any case, despite members of the Albanese clan being spread out all over the country (Arizona, Florida and Maryland), Stephanie (my elf partner in crime) and I are always sure to keep the Christmas Eve traditions alive. We take turns each year hosting our family over. I always make her favorite, my Christmas tree brownies. And she always makes my favorite, sweet and sour meatballs. We eat too much and probably drink too much too. And, last year, after my Grandma passed away, I was the lucky recipient of her famous Christmas vest that she wore each Christmas. So of course, now I wear that on Christmas Eve. I feel like she's still with us when I put it on. Oh, and one last thing: we HAVE to watch Dr. Seuss' How the Grinch Stole Christmas (original animated version) on Christmas Eve. At least we don't have to sing for our presents anymore, right guys?
Other traditions I have include buying way too many presents, stuffing stockings, making sure I watch EVERY Christmas movie on my list, sending Christmas-movie-themed holiday cards with Andy, and making way too much food.
Also, thought I would share just a little bit of what's on the menu this year:
Curious to hear from you all what your favorite traditions are, especially with your family, parents and little ones. Please share in the comments!
Happy Holidays!