Sorry for the language, you guys, but really. I need to berate myself somewhat publicly, on this blog, so that you all can hold me accountable. And better yet, so I can hold myself accountable.
As you may know, I was diagnosed with colitis over the summer. When that first happened, I was so scared. Colitis is painful, and while I was happy to finally have a diagnosis for my issues, I truly terrified of how bad it got and that it sent me to the hospital. After that, I was very conscious of what I was eating and putting in my body. When we went grocery shopping, our cart was different. And when I was out to eat or ordering food, I was much more aware of what I was ordering. I found the right supplements and treatments, and I was able to manage my symptoms.
But as time went on and reality set back in, I got lazy. I was eating things that I knew I shouldn't, and not even taking some of my supplements. Just this past weekend, I finally said to myself…what are you doing? While I know there are no excuses, I had reasons. Work, graduate school, and overall just being busy lead me to just get lazy. As you also may know, I don't sleep well. So, I come home from work and I do not feel like cooking. So we order. Well, that wouldn't be so bad if I was ordering the right things (although we have been ordering too much and it's not financially healthy, either!). But I have been indulging every hormonal craving, using stress as an excuse, and completely justified my poor eating habits. I'd claim "balance", because I'd throw in the occasional healthy salad or green smoothie. But let's be real, it was about 70%-30%, and that is by no means a balanced diet. In addition to my lazy and unhealthy eating habits, I've been majorly slacking on my workouts. It's been an overall self-deprecating downward spiral and I finally had to put an end to it.
Let me be clear, a healthy lifestyle is imperative for me. I have high cholesterol (thanks, genetics!) that doctors won't treat with statin-drugs because I have not had children yet (thanks for the reminder, docs!). And, of course, the colitis. Days like yesterday, results of my bad eating are painful to say the least. While these health issues should obviously be reason enough, I also need to think about my weight. After dabbling with diet pills and borderline eating disorders in high school, my weight has constantly fluctuated, and I've always struggled with it. As an adult, I know what I need to do in order to be healthy, so I just need to do it.
So, yesterday, I got back on track. We went grocery shopping and we basically bought the entire produce department. I looked through healthy recipes I had saved online and wrote down the ingredients, something I always used to do. Menu planning! Meal prep! No more just buying stuff and figuring out what to do with it (and then getting frustrated and ordering).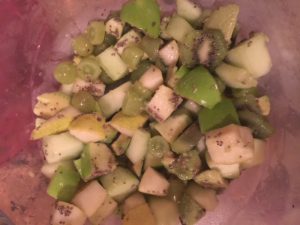 Let me be clear again. I'm not saying that I won't still eat junk or treat myself on occasion. But the key words are on occasion, not on a daily freakin' basis. I want to be able to go out for a burger and beer, or have some soy milk ice cream, or inhale a Taylor Ham, egg and cheese from my favorite bagel place. But these can't be the norm! They just can't!

So today, while working on and off on my take-home-midterm (did I mention I am stressed?), I spent a lot of time in the kitchen. I thought I would share just some of what I made with you all and maybe you'll get motivated and inspired too!
The first thing I made was this Green Fruit Salad, but I changed it up a bit. Here's basically what I did: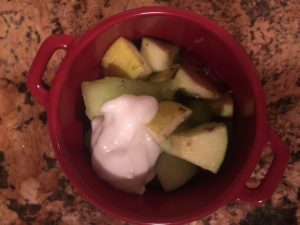 Bought a small container of pre-cut honeydew in the fruit salad section
Cut up a granny smith apple with the apple slicer
Cut up a green pear with the apple slicer
Peeled and sliced two kiwis (does anyone have any tips to make this easier?!)
Chopped up a bunch of green grapes
Cut up some avocado (which by some miracle was actually ready to use!)
I did not use the mustard as I wanted to keep this more sweet than savory. I added a TON of fresh lime juice and zest for both flavor and to keep the fruits from browning. I didn't measure, but simply drizzled some honey and olive oil over it and tossed it. Then, though the recipe doesn't call for it, I added some chia seeds, because any excuse to use those! I let it sit for hours in the fridge and had a small bowl for "dessert" tonight to calm my sweet tooth. I added a dollop of coconut yogurt to the top and OHMYGODYOUGUYS…I usually do not get excited about fruit, but this was amazing!
I also made two mason jars of overnight oats and two jars of yogurt parfaits. I made two of each, all different combinations
Overnight Oats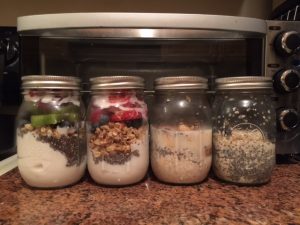 Gluten free rolled oats
Almond milk
Chia seeds
Bananas
Blueberries
Justin's Vanilla Almond Butter
Yogurt Parfaits
Coconut yogurt (better than almond or soy)
Fruit
Gluten free vanilla almond granola
Chia seeds
I also got some salads ready for the week, and am confident knowing we got a ton of health y snacks to get us through. Andy has been doing great with his workout regimen, but this healthy diet can only help us both! I figure that we have to control what we can, and allow ourselves some cheats when we are out or have limited options. But I HAVE TO take my supplements when needed (been slacking on the Beano and Lactaid).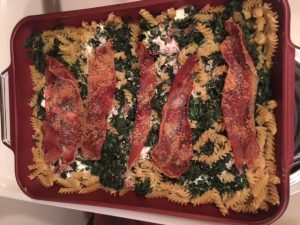 For dinner, I made this spinach and riccotta pasta bake with prossciutto. While it is not entirely "colitis" friendly, it wasn't incredibly unhealthy, and at least it was homemade. We only use gluten free pasta in our house, and I used almond milk, and part-skim ricotta. Two Lactaid made it tolerable for us both! Not only were we full, but we didn't feel completely disgusting after, something that happens when I eat things I am not supposed to!
After a miserable day yesterday where I spent more time on the heating pad than doing anything else, I am excited and motivated to get back on track and hopefully continue to incorporate more of these healthy, antioxidant packed foods into my diet. (Mom, I even bought beets for my salads!)
Anyway, this has been my public confession of my habits lately. As annoying as it is when people post food on social media, I'm going to keep it up to help keep me accountable to myself!
Thanks for reading, all!