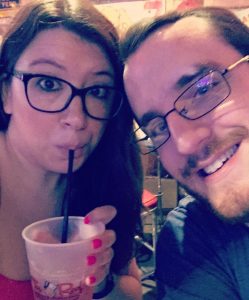 For our summer vacation this year, we chose to spend a long weekend in Nashville, Tenn. I had been dying to visit this city, but Andy took some convincing. Once he was sold on the idea and we booked our travel, I started to explore some things to do in Nash. I had no idea how expansive the city is; how many different areas there are. Here is a little bit about what we explored on our trip!
When we arrived on Thursday afternoon, we were quite early for check-in at the Marriott at Vanderbilt University, a hotel I'd highly recommend if you visit. It's really close to The Gulch and Music Row, among other places. But I'll get back to that. Side note: Rent a car. We spent more on Lyfts than we thought we would!
Anyways, we were early, so we grabbed lunch a burger joint right by the hotel called Roiters. It looks like a hole in the wall, but it's a hidden gem! They are famous for their French bread burger, which did not disappoint. They also had a nice sampling of local beers and ciders. Win!
After lunch, we stopped at the drugstore for some items we needed and then got settled at the hotel. Once we got settled and got revitalized, we headed out to visit our first local brewery, Bearded Iris (going to do a separate beer post about the trip!) for some delicious beers in a really cool space in Germantown. Then, we went to dinner at Martin's BBQ, one of many famous BBQ places in town. Holy moly, was the line long, but it moved fast. They give you menus while you're in line. You get to a register and order and they give you a GPS and find you no matter where you are in the restaurant. By the time we ordered a drink from the bar, our food was ready and OMG YOU GUYS was it goooooooood! Andy had pulled BBQ pork aka "the whole hog" and hush puppies, we got some sort of wild loaded fries, and we both got delicious mac 'n' cheese as sides. I opted for what they call a "redneck taco" which was a cornbread hoecake with pulled pork and slaw on top. I think this was the most full we were on vacation, because we were so excited for BBQ! After dinner, we went to the restaurant's indoor/outdoor beer garden and listened to some live local music. A great first day.
Not all days can be great though. Friday morning started out great, we had some coffee and then headed out to try another "must-go-to" place for brunch called Biscuit Love. But, as soon as we got out of the Lyft, Andy noticed a HUGE brown stain on the back of my dress…it looked like I must have sat in spilled coffee in the car. So now I'm super annoyed and standing in line. I decide to duck into the crowded restaurant and try to get the stain out, but it's not going well. Now it's just a big wet brown stain! So I head back out into line and ask Andy to cover me. Shortly after, some grown ass man, like, a father, with his kids (in their 20s!) and their friends, BARFS on the corner of the place, RIGHT NEXT TO ME. Yes, there was splatter. I am frozen in shock, but luckily it wasn't that bad, no visible barf on me. People in line behind me were so nice and gave me their water bottles to wash it off and hand sanitizer for my legs while Andy went to get water. Appetite slightly ruined. But we finally got inside and ordered. While I was a little put off from the whole experience (and my Bloody Mary was meh), the food was good.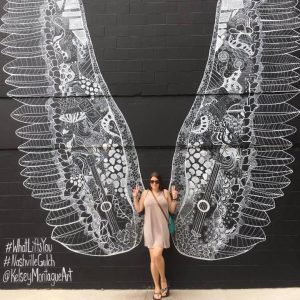 We decided to put all of this GROSSNESS behind us and head to the bar next to the restaurant after lunch, where I was able to use club soda and a hand dryer to get the stain out! We had some delicious drinks (I had a "breakfast sangria") at Bar Louie before venturing back out.
We spent the rest of the day in this area, known as The Gulch. We walked around, found the famous wing mural for a photo shoot (more like we stumbled upon it and Andy pointed it out), went to a great little craft beer bar called Hops and Crafts with the nicest server Kayla, grabbed coffee and a snack at Killebrew, part of a fancy hotel, and then headed to our second brewery, Yazoo Brewing for flights of beers.
After that, it was time to head back to the hotel for a break before dinner. We had been hearing all about the famous hot chicken, so we thought we would try at least one of the famous places, Hattie B's or Prince's. Hattie's is closest to our hotel, so we went there. You guys, we waited for two hours in line at this place, but we're thinking, it MUST be good because look at this line! And we might as well experience the food in Nashville! Well, we thought it was overrated. I'll leave it at that. Then we stopped in at this really cool bar/restaurant called The Row, walking distance from our hotel! We heard amazing live music and had really good drinks. Day saved!
Saturday! This was the day we decided to head to Broadway, aka Music Row! Wow. You can just walk in and out of bars and honky tonks and hear live music and drink good stuff. We started with a visit to the Johnny Cash Museum, which was really freakin' cool. Then we explored the area and stopped in for a drink or two at the Tin Roof and heard some more amazing live, local music. We grabbed a late lunch at this cute place called Acme Feed and Seed that has like 3 or 4 different levels.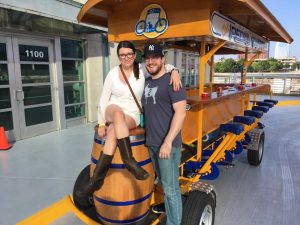 I had the best ribs I've ever had there. Really. After a break at the room we headed back to this same area for some iced coffee and tea (more local music) and our reservation on a Nashville Pedal Tavern. Luckily for us there were no bachelor or bachelorette parties on board (never seen more in my LIFE, not even in Vegas or AC!) and it was just us and 3 other groups of 2. This thing is so cool. You bring your own alcohol. They provide ice, cups, coolers, music, etc., and you pedal your way around the city, stopping in local bars that have deals for you. It was a blast, even when it poured! So we headed back to the room for room service (second time that day, oops!)
On Sunday, our last FULL day in Nashville (or so we thought), we went to a local place called Three Brothers for breakfast and coffee, and later headed to take a backstage tour of the Grand Ole Opry. You don't have to be a country music fan to appreciate the history and coolness of that place, but brace yourselves, because it ain't cheap! We got to see dressing rooms, the green room and more. Really cool! Then we headed to our third and final brewery, Southern Grist. Can't wait to tell you guys about these breweries (post coming soon!). While in Nashville, I just HAD to visit Reese Witherspoon's store, Draper James. It's in a super cute area. All we did was look around, because, CA-CHING! Super cute, but not in budget, Reese! We explored this area and stopped into another cute cafe (just as many amazing cafes as their are bars!) and some other local stores. Finally, we headed to The Row again for dinner. Andy's meal was amazing and mine was eh. Oh well. We stopped at another cute local store (love finding hidden gems) and then headed back to the hotel to pack and get organized for our flight the next day.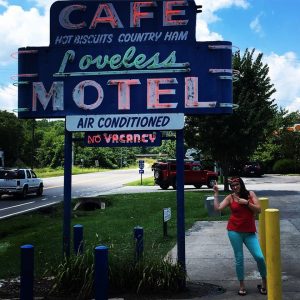 On Monday, we knew had some time to kill before our evening flight, so we headed to Loveless Cafe, a place I had seen Reese Witherspoon post about. It was far from where we stayed, but really awesome. It used to be a motel and diner that this couple – Loveless, owned. The biscuits were deadly and the food was incredible. We checked out the stores and then headed to the airport, really early, hoping to get on an earlier flight.
Oy. The airport. We arrived around 1:30 p.m., but our flight wasn't until 6:00. So we got on standby for an earlier flight, a 2:00 p.m. that had been delayed until 4:00 p.m. I don't want to drag this on, but both flights were super delayed. We made it on the 2:00 p.m. flight that wound up leaving at 6:00. We were the last two standby passengers! It was a long journey home, and as much as we loved Nashville, we were happy to come home to our little Leo.
To sum up… if you love BBQ and southern comfort food, drinking, and live music, visit Nashville. It's something different and it's a really incredible place. Everyone is friendly and there's so much to do! We had a great time and I'm so glad I got to spend a long weekend in Nashville with my best friend.