Well it's been a month since Nashville, and I am (we are) finally getting around to posting about all of the great beers we had there. Full disclosure, sometimes, I didn't drink beer. We were eating SO much, that I was getting SO full. Beer was just too much and I needed to settle my stomach, so I drank my fair share of vodka clubs with extra lime (and some specialty cocktails… and some moonshine. Hey, when in Nashville…)
Let's start with the three local breweries we made it a point to go to, in order of how much we liked them: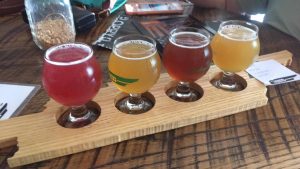 Southern Grist: This brewery is located pretty far outside of "downtown" Nashville in East Nashville, but totally worth the Uber. This was the last brewery we went to on the trip. The first plus about this place is that they have a bar snack menu – immediate win. Also, they had really awesome merch and fun games to play. But most important? The beers! We found out about this brewery from the locals! Our fabulous bartender at Hops and Crafts told us about their infamous milkshake IPAs. Some of the beers we had include: Blue Razz Cobbler (Blueberry Raspberry Sour), Underbite (Cream Ale with PB and Raspberry), Mixed Greens, Noise Pollution, and Hoppy Timbs (IPAs); and Mango Upside Down Cake (mango milkshake IPA).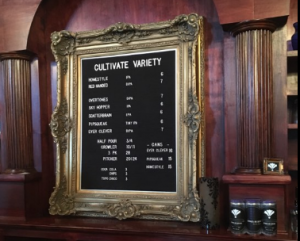 Bearded Iris: Located in the Germantown part of Nashville and was the very first brewery we visited on the trip (on the very first night!). They had a great "hoppy" hour deal ($3 Single-IPAs, $6 Double-IPAs!!) and awesome decor, but no games and no food. But still, really cool place, and really close to where we stayed. The hallway to the bathroom looked like something right out of Silent Hill (Andy wanted me to mention this.) Some of the beers we had (all IPAs, DIPAs or Ales) include: Scatterbrain, Ever Clever, Overtones, Homestyle, and Red Handed.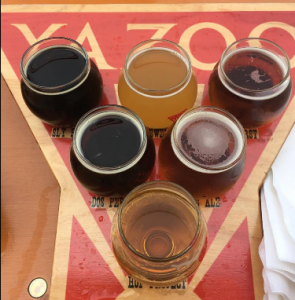 Yazoo: This place definitely got the most hype, but in our humble opinions, wasn't all that impressive. It's located in The Gulch district of Nash, which is super cool, so location is plus. They had some interesting beers, but we were not overwhelmed. One that I happened to love was the Hefeweizen, because it was made with bananas and cloves. Andy really liked the beer "Sue", which was literally a smoked beer. The beers were good but are also served everywhere, all over town, so it wasn't as unique of an experience as the others. We also went after drinking at a local place (I'll get to that next) so we were sort of spent.
Another great place worth noting is a local bar in the Gulch called Hops and Crafts. We stumbled upon this place while walking around and were so glad we did. Fun games, good atmosphere, great bartender and great selection. Reasonably priced and really laid back, but still a lot of fun.
All in all, Nashville has good beers and plenty of great places to drink local!