For those of you who don't know, we have been foster parents to a beautiful calico cat, Rick O'Shea, since July 30. It all started with me, feeling like I needed a hobby – that's not the right word for caring for a pet – but you know what I mean! With graduate school being over and feeling a little lost at 31, I felt like I needed something to fill a little piece of my heart. And, in case you didn't know, I love animals. I love them more than people. People are the worst!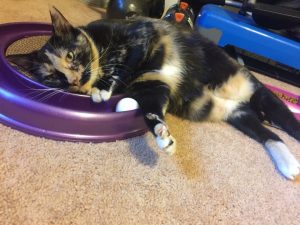 So in May, I filled out an application to be a foster, after an initial conversation with Andy. After several more conversations, I submitted the application in July (after we had been on vacation). We are fostering through Montclair Animal Shelter, and they reached out right away, but none of the cats they were suggesting were the right fit. Don't get me wrong, I love cats, but I'm more of a dog person. But we are in a one-bedroom, technically pet free apartment, so we had to be picky, unfortunately. The shelter was reaching out with a pair of cats or a pregnant cat, and we just couldn't (happy to report that all are in happy homes!).
Then came Rick O'Shea. I didn't know much about her when they first told me. Just that they had a cat that needed serious socialization. Andy and I went to the shelter on Sunday, July 30, and met our girl. Well, actually, we didn't even SEE her, not even a picture, until we got her home. I only learned her name the day before we got her, and didn't learn her back story until shortly after she was in our home.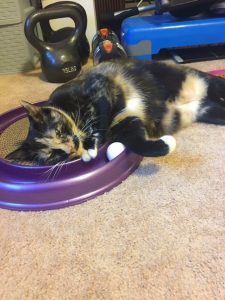 For those wondering, here is her back story. She is 5 years old. Her previous owner passed away. It is my guess that the primary care giver was a male, and that he had her since she was a kitten. Then in October 2016, when he passed, she went to Montclair Animal Shelter. They do such great work, and it's so great that she had a place to live and be cared for, but a shelter is not a home. No wonder they warned me that she was swatty and fresh. She went from a house to a cage for almost a year!
When we first brought our girl home, she made herself comfy in the closet, a little scared. But that didn't last long. Over the past month, she's made herself more and more at home and comfortable. By night two, I think (Andy, correct me if I'm wrong), she was sleeping with us in our bed and loving up on us all the time. I took to being her mommy like it was the most natural thing. She tore a claw while she was in the carrier, because she was so stressed. I got worried she would get an infection, so the shelter gave me an antibiotic for her. She is such a good, loving, adorable little chicken butt.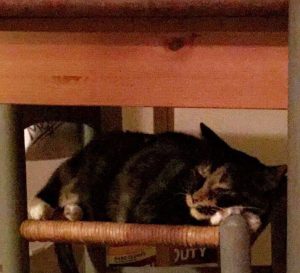 I don't know why her name is Rick O'Shea, but we can't change it now. So here we are.
In case you have not caught on by now, we are keeping her. I am signing the adoption papers tomorrow on behalf of Andy and myself. Everyone we tell reacts the same, telling us that they knew that from the get-go. I'll be honest, I didn't think we would keep whatever pet we fostered. I thought I wouldn't develop such a bond because I haven't had a cat in years (wrong) and that we'd really just give a cat a good home for a few weeks or month and then help to find them a FURever home. Ha! WHO WAS I KIDDING? I really think I was in COMPLETE denial. I kept telling myself that we can't have a pet because we are not supposed to. News flash, everyone in this complex has pets. I worried that Molly could not come visit or that Rick will ruin my Christmas tree, but the fact is, everything works out and there is enough room in my heart for my Leo, my Molly and my Rick O'Shea.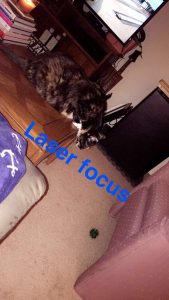 You can all say your collective "I told you so" and "Duh, I knew that" now. And for those considering fostering and/or adopting, PLEASE do. There is nothing more rewarding than giving an innocent animal a home, and no one more loyal and loving than a pet. I'm happy to connect you to the wonderful people at MTAS if you're local, or help connect you to other places if you'd like.
I had not uttered a word out loud that I thought we would keep her, the entire time. Of course, I wanted to, but I didn't ever say it out loud. Andy and I danced around the subject, but apparently he told my brother that we were "probably going to keep her" on a Thursday, and then the following Sunday, we finally had the conversation. It went something along the lines of Andy saying "…Or, we could just keep her!" and a huge weight lifting off of me. He cited reasons such as "I notice you are less anxious" (that is true) and, an exact quote from him, "I fucking love her" (and then I melted!).
To my Rick O'Shea…Dad and I fell madly in love with you right away. You know that, though, because you have us wrapped around your very sharp clawed little paw.