It hasn't even been a month since my last post, so I'm totally getting better, you guys and gals! But really, my New Year's Resolution will be to blog more (and get back into yoga).
But anyways, back to our last conversation (aka me talking at you via a blog) about the holidays! Last we chatted (there I go again), I was telling those who care how I celebrate the fall and the holidays. Let's chat about Thanksgiving, the best landmark on the road to Christmas!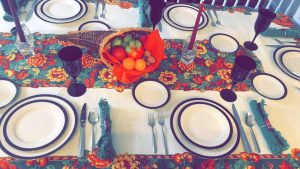 Thanksgiving is my mom's day. It's her favorite holiday, it's always near her birthday, and she kiiiillllsss it! That being said, I always spend time with Sher to prepare. I usually sleep over the night before so we can start cooking and baking (and there is usually wine involved). This year, since Christian was at school and had class Wednesday night, it was just us girls (me, mom, and Molly!) but luckily Christian helped make his famous stuffing a few days before!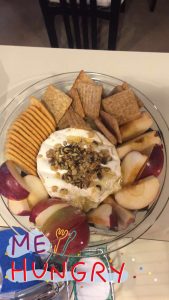 Thanksgiving was extra special this year, and my mom's house was very cozy! Andy came for brunch: Bloody Mary's and French Toast Casserole. We had Aunt Diane, Uncle Larry, and Leah over for appetizers and dinner (and outrageous festive Jello shots made by Leah), and for dessert, it was just the three of us and Molls. By then, my mom and I were SO full we could hardly touch dessert, but Christian did just fine.
This year, I did a new twist on my baked brie appetizer. The one I normally do is a little much, so this time I just drizzled some honey and walnuts over it and baked it until it was oozy. Note: The timer was otherwise occupied, plus, who needs a timer for baked brie? When it's oozy, it's done! Once it was done, I added some sliced apples and crackers to it for "dipping". Last year, my mom and I ate almost the entire wheel of brie, so we were happy to have help making it disappear this year!
I also made sweet potato pie with a meringue topping and a gingerbread trifle that I made up. I'm pretty sure I posted the recipes for the brie and pie last year, but here's a run down on the trifle: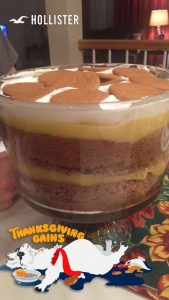 Ingredients:
2 packages of vanilla instant pudding (note – you cannot use soy milk, but you can use almond milk!)
a box of spice caked baked into two 8″ or 9″ rounds
Cool Whip
Ginger Snap Cookies
How to make it: Trim the cakes to fit your trifle dish. Layer as follows (or however you want, who am I to tell you what to do?): cake, pudding, cake, pudding, cool whip, cookies. I suggest making the trifle a day or two in advance, but if you do, don't add the cookies until you're getting ready to serve.
So really, I know what you're all wondering… did I go Black Friday shopping? No, I took a hiatus from that.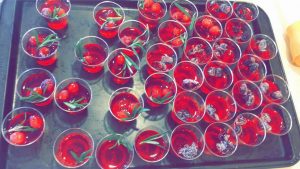 And I know what else you're really wondering… how soon did I decorate for Christmas? Immediately. The Friday and Saturday after Thanksgiving. I promised my mom that Thanksgiving gets to be celebrated on it's own (even though one of the highlights is seeing Santa in the parade), so I kept my promise. Plus, despite my obsession, I do like my Fall decorations to have their time to shine also!
Because we get a real tree, we usually don't get it until the first weekend in December so that it lasts until the new year (it gets very dry in this apartment!). Here's the catch this year. We are holding off a whole week to minimize time that Rick O'Shea has to be alone with the tree (it's killing me). Like, really, as I write this, my tree isn't up yet! While we don't know her history with Christmas trees prior to the shelter, we do know that her favorite toys are literally made out of tinsel and look like ornaments, she loves to drink water that isn't hers, and she absolutely loves to chew on plastic, so, we are pretty sure she could not only hurt her belly pretty badly, but she could also destroy the tree and the presents. Since I am off the entire week before Christmas, getting it this coming weekend will only leave five working days of unsupervised time for her, and she will spend those hours in our bedroom which we plan to make very cozy for her (note, the entire apartment is made cozy for her, she literally took over).
Otherwise, all systems are go for merriment here! Baking, movies, candles, Christmas beers, friends, family, you name it, I am there! I mentioned in my last post that Andy and I call our Halloween decorations "spookies". I thought I'd let you know that what are up now are called "merries!" I literally just asked Andy, "can you put the merries on out there?"
As always, I'd love to here how you've been spending the holiday season so far in the comments below!