Ah, a snow day. Something so rare, that we (myself and Andy), make damn sure that we enjoy it! Here's how a sleepless beauty (on Weight Watchers) spends her snow days: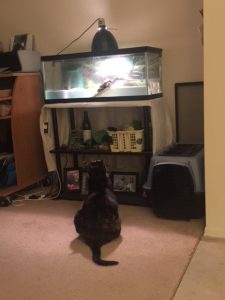 I'd like to tell you that I slept in, but really, I didn't sleep well consistently all night, so I did stay in bed until about 9:00 a.m. or so. Then it was time for much needed coffee and breakfast.
We eat a lot of avocado toast these days. Thanks to the fact that I am really closely watching what I eat, we don't keep that much "bad stuff" in the apartment. There is literally a large ziploc bag with leftover candy and cookies from gift baskets that we got in a cabinet – that's it. So, an already healthy breakfast of avocado toast is made even healthier. We make it for breakfast and brinner pretty often. Of course, we keep forgetting to take pictures of it, but here's how we make it:
Avocado Egg Toast
Sprouted wheat bread (the only kind we buy anymore)
Trader Joe's Vegan Spread
Smashed Avocado
Fried organic cage free eggs
It's pretty self-explanatory, but I'll tell you how we make it. We toast the bread, then we spread a little bit of the vegan spread on it. Then, we spread some avocado on top of that. Now here's where it gets CUH-RAZY. We top it with a variety of things. I like black pepper and crushed red pepper flakes. Andy fancies him with some other toppings such as Everything But the Bagel seasoning. Sometimes we add "nooch", aka nutritional yeast and/or pink Himalayan salt. You don't have to top with an egg, but we do, seasoned with pink Himalayan salt and black pepper. If you're really feeling crazy, add in a side of turkey bacon, and it's freaking delicious and like, less than five points (if you care about that sort of thing!)
After breakfast, I tried to nap. So did Andy. Didn't go too well for me, so I decided to get up and head into the kitchen to clean and make some orange water. I won't bore you with those details, as I literally put orange in the water infuser. Then I decided to spiff up the apartment a little bit. You know how blizzards and snow days can make you kind of stir crazy? I do. And, I like to spend these bonus days by doing the things I wish I could do more often, like on busy weekends filled with social obligations. So, I decided to create a natural and delicious scent. There are lots of variations you can take with this, but here is what I did today:
Natural Scent Diffuser
Half of a navel orange
2 Cinnamon sticks
2 drops of Vanilla extract
2 drops of On Guard essential oil
Bring a small pot of water to a boil and add all of the ingredients listed above. You can use whatever you have in your kitchen – pretty much any citrus, cloves, cinnamon, vanilla, etc. You don't have to use essential oils, but I wanted to add some to bring out the citrus, and, it's cold and flu season and it's a blizzard out there! Once the water comes to a boil, lower the temperature and let it simmer. Your house/apartment will smell amazing, and it's all natural. Just remember that the stovetop is on, and keep an eye on it!
So, after doing some other odds and ends and putzing around, it was time to make lunch. I spend 99% of my time looking up Weight Watchers recipes to try, and today meant we were having a little Middle Eastern Style Lunch Plate. So simple, and so good. And, yes, only 5 points.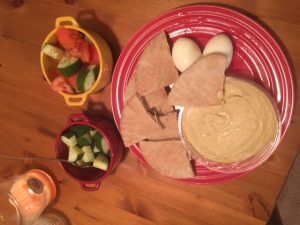 Middle Eastern Style Lunch Plate
One cucumber, cut up
Half a beefsteak tomato, cut up
2 Pitas, you guessed it, cut up
Baba ganoush hummus
2 soft boiled eggs
Again, I don't mean to explain something so simplistic, but here's how I made it for us. Boiled the eggs for 7 minutes. We prefer them soft boiled as opposed to hard boiled, but you can do whatever you prefer. I cut up the cukes and the 'maters into wedges and tossed them in some dill seasoning, which is totally optional. I cut the pitas into fours and plated everything nicely, because, hey, I was feelin' fancy on this snow day.
P.S. – I saved some cuke slices for our tired eyes later! 
A Wrinkle In Time
In case you haven't heard, A Wrinkle In Time comes out on Friday and I am SO excited to see this movie. I have the day off, so I think I am taking myself on a solo date to see it. Andy has no interest, and I don't think I can wait much longer to see it!
If you're not familiar with the story, it's about three children who overcome darkness and evil (that's a super vague description as to not spoil it for anyone!). It's not really a sci-fi book, and it's totally a young adult book. I don't remember exactly what year it was, but we read the book in elementary school. Twenty something years later, I still have the book. I've moved at least twice since then, purged and donated countless books, but I still have this one! Around the holidays, Andy and I went through our bookshelf to see what we wanted to keep, donate, etc., to make room for some new reads that I got for Christmas. That's when I remembered that I have AWIT, and I decided that I absolutely had to re-read it before March 9. Well, folks, today was that day. The book is a short, easy, read, but I had not read it since the '90s. In between everything else today, I'd sit down and read a couple of chapters. Now, I'm totally read for Friday! If you've never read the book, I highly recommend it, even as a grown up. The message remains true to this day, and I cannot wait to see it in action with three of my favorite people of all time starring in it…Oprah Winfrey, Mindy Kaling, and Reese Witherspoon!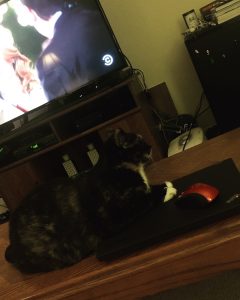 Oh, what a snow day. In between all of that fun, I managed to get a tiny amount of work down, we watched plenty of SVU and The Office, Andy snuck a workout in AND is outside shoveling now. We made dinner, did a mini-clean of the apartment, and even relaxed a little. Since my yoga studio is closed tonight, I'll need to sneak some poses and stretches in before bed, and of course, you know there is a "snow day night time skin routine" coming up!
To see all of this fun in action, check out my Instagram story & profile (@_thesleeplessbeauty).
How did you spend your snow day? Tell me in the comments!