Those who know me well, know that self-care is a huge priority for me lately. Those same people know that for me, it was not always a priority. I'm here to tell you how I've been able to work it into my life and budget. But mainly, I'm here to convince you that you are so worth it. Self-care is important, and you can make it work for you. No excuses.
Self-care can mean a lot of different things. You may be doing some of these things already, but you don't quite see how it's helping you "take care" of you. Incorporating self-care into our lives is all about how we define it.
For me, a lot of what I deem as self-care is due to my health. As you may know, I have a really bad back, and after several years of suffering, I've finally found a plan that works for me that does not involve prescription medication. In order to not be in constant pain, I see an acupuncturist once a week, a chiropractor twice per month, and a massage therapist once per month. I'm lucky that my chiropractic care and acupuncture are covered by insurance, so I pay a very fair copay. That being said, to keep my back issues* in check, I spend about $150 per month. That's a lot of money but it's what works for me. On top of the money that it costs, it also takes up a lot of my time. However, I have come to terms with that and can justify it because it's crucial to my health. Plus acupuncture and massages are super relaxing, so I look at it as a treat-yo-self experience in addition to a your-back-is-messed-up experience.
*Acupuncture, chiropractic care and massages not only help my back, but have also helped my TMJ issues, help to ease my anxiety and insomnia, and much more!
As I've said, self-care is what you make it. The best part? It does NOT have to cost a lot. Another favorite self-care treat of mine is a nice bath. I'm all about baths…epsom salts, essential oils, oat baths, bubbles, bath bombs, lavendar…you name it, I am into it. While I love a lush bath bomb as much as the next girl, I do not like to go to the mall, go in that store, and spend that kind of money. Stores like that are dangerous for skin care junkes! I like to get my bath products at places like Walgreens and Target, so depending on what I get, it's on average, $5! I know you have $5 to spend on yourself. Speaking of low cost self-care options at Walgreens and Target, I am also a huge fan of face masks (are you surprised?). If you are into DIY, there are some super easy recipes to make a mask at home with ingredients you probably already have. That's $0 spent on a nice self-care treat! If you prefer to buy some, you can get them for a cheap as $1! Most drug stores have a variety of masks, or if you want to treat-yo-self, splurge for a nicer mask and look at it as an investment in you! The same goes with the bath products. While I am a fan of the less costly options listed above, sometimes it is nice to try something a little fancy.
Now, listen. Now that I've made the concept of self-care affordable to you, I know what you're going to say. You're going to tell me that you don't have the time. Well, guess what? None of us do! However, everyone can make time for themselves. At minimum, I am asking you to put aside 30 minutes per week towards this and start there. You're worth so much more, but this is a start. Draw a nice bath. Put the face mask on. Make a cup of tea or pour a glass of wine. Grab a magazine. Put on some music. Light a freakin' candle (it makes a world of difference). Get in that tub and relax! I promise you will feel like a different person when it's over. While a nice bath has plenty of health and skin benefits on its own, the time you took for yourself shows you and those around you that you value yourself and are dedicated to taking care of you.
Maybe baths aren't your thing. Take that same 30 minutes and find a quiet space. Light that candle again and read a book. Or a magazine. Or meditate. Put lotion on your hands and feet and put some cucumber slices (or save those tea bags!) on your eyes and just lay there for 30 minutes. Guess what? This is self-care! You can do this!
My point is that really almost anything that you enjoy doing for yourself is self-care. You just have to tell yourself that this moment and experience is for you, your physical health, and mental health. You can spend as much or as little money (and time) on this each week, or even day, as you feel comfortable with. Also, gentlemen, this is not just for the ladies. We all need this. Take that bath. Get a massage. Indulge in a nice shave and hot towel. Play your video games. Hit the spa after a round of golf.
While I want to be clear that this is important to everyone regardless of gender, I do have to talk to my fellow ladies again. As women, regardless of marital status, career, motherhood status or not, we are made to feel as though taking time for ourselves is selfish. We are often caretakers in some way, shape, or form. I'm here to tell you, after learning the hard way myself and by watching others, that we have to take care of ourselves. We are important. And if we are not well, how will we care for others?* How will we juggle any combination of: a career, school, a family, a partner, pets, a household, our elders, little children, college kids, etc., if we do not start with ourselves? Moms, I don't want to hear your excuses! You can find 30 minutes. So can you, miss working full-time and in graduate school. Or you, miss volunteers-all-weekend then works-all-day. And you shall not feel guilty! No excuses!
*As I said, this goes for men too, of course, but society has made us ladies feel super weird about this kinda stuff, guys!
Like I said, self-care is what you define it. So do what makes you feel good!
Struggling to find something that you can do to take care of yourself? Here are some of my favorite go-tos. Again, spend as much or as little time and money as you can and want to!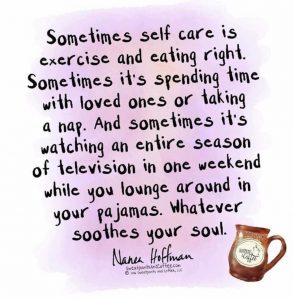 Try a new workout class. (I've recently become addicted to yoga) Look for new client specials or Groupons if you don't want to commit!
I cannot say it enough…face mask and baths
Read a book. But not on the couch with the television on and your family bugging you. Go to a coffee shop or the library.
Get a massage. Again, Groupon is a great resource for experimenting
Salt-caves are also a favorite of mine (full blog coming soon!)
Start a blog. Seriously!
Visit a family member of friend. Self-care does mean you have to be alone!
Try a new restaurant! You never know what new foods or cuisines you'll like.
Binge watch a show you love that makes you forget about everything else.
Research something you are passionate about, or even just something you'd like to start as a hobby. Sometimes starting a new hobby can be intimidating, so start with looking it up online. (ex: recipes, beginner yoga poses, home brewing, etc.)
I hope I've convinced you that you're worth it, and if you don't already practice self-care, that you'll start. Or, maybe you realize that you already do some of this, but will take a moment to appreciate it more. Tell me in the comments how you plan to or already practice self-care!