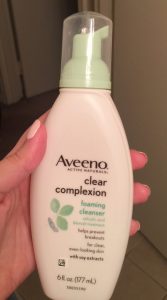 I work hard to have good skin, but for the most part, it's come easily to me. Maybe it's genes, but if I treat my skin and my body right, my skin shows it. I've also been taking care of my skin for a long time, for almost as long as I can remember. I can remember having a skin care routine as far back as elementary school, and I have had one ever since.
My skin care routine does change often. I always want to try new things, so I mix it up from time to time. I also vary my routine based on the season or if I have something big coming up, like, engagement photos in one week!
Below is a quick rundown of my current skin care routine, which currently includes drug store finds only. I'm all about balance and while I love a good department store or boutique product, for financial and convenience reasons, sometimes that is just not doable.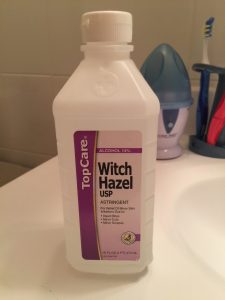 Morning
I am the worst at waking up, so I keep my routine in the morning pretty quick. I wash my face with warm water and Aveeno Clear Complexion Foaming Cleanser. It's light, and just enough to get the overnight oil off. I add in a splash of cold water to wake my tired ass up. Then, I use witch hazel as an astringent or toner – it's a natural alternative to harsh chemicals. Since it's the morning, I like to be gentle on my skin. Finally, I apply an SPF. I'm not normally a huge Olay user, but a friend gifted me this Regenerist Microsculpting cream that also happens to contain SPF 30, and I happen to love it. Then, if it's a day that requires makeup, I start my makeup routine, which also includes a light SPF.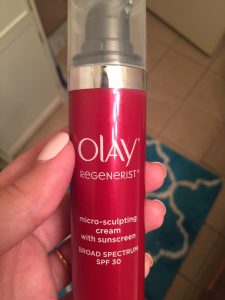 If around midday or late afternoon I start to feel a little icky, I blot my face with oil blotting sheets to control shine and slickness.
Night
When I first get home, I cannot wait to take my makeup off. It is one of my favorite moments of the day. I love to use a makeup wipe to take it all off.
I am a night time shower person. That was when I showered as a kid, and with some exception depending on schedule, I've kept that routine, especially because when I work out, it's after work and in the evening, so I always shower in the late evening or before bed. While in the shower, I like to use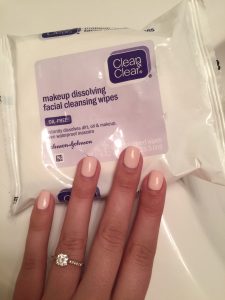 a more serious face wash to get any remaining makeup, dirt, oil, and pollutants out of my pores. While as you can see, I am an Aveeno fan when it comes to drug store brand products, I decided to try this L'Oreal cleanser after trying samples of the same line's face masks. This particular cleanser is a charcoal clay that turns into foam once activated by water.  They make clay and charcoal face masks too, that I really enjoy. On some occasions, instead of face wash, I'll use that Aveeno Positively Radiant 60 Second In-Shower Facial. It's a really nice lemon and soy based product that makes your skin look and feel really clean and fresh.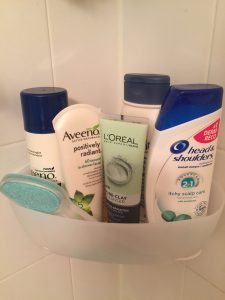 After a shower, instead of witch hazel, I'll do a quick swipe of Micellar Cleansing Water. I had been curious about this product for awhile, and it seems now that every drug store skin care company makes one, but I'm pretty sure Garnier was the first, so I gave them a try. It's not very refreshing, but since it's bed time, that's okay. It really does remove any final, stubborn impurities and eye makeup. On days that I literally cannot fathom completing this whole routine (meaning I get home after 11:00 p.m. or have multiple drinks), I'll do the lazy girl skin care trick of the just makeup wipe and micellar water. On days that I shower in the morning (some weekends or other circumstances), or when I don't wear makeup, I use only the micellar water as a gentle cleanser.
Since there is no need to use an SPF at night (it's wasteful and may unnecessarily clog your pores), I opt for coconut oil as a night time moisturizer. As I've mentioned in previous posts, a little bit goes a long way. I'll just tap a little bit under my eyes and spread it from there. I also use it to moisturize my lips, and in a bind, I've used it as eye makeup remover too.
That's it! This routine is simple, gentle, but also gets the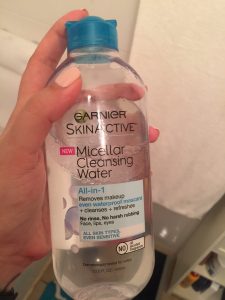 job done. It's perfect for summer because it includes an SPF, and coconut oil is super soothing (even more so when stored in the fridge!). I'm sure I'll get the itch to switch things up again soon, but I'm happy with how these products make my skin look and feel.
Next week, I'll do my best to post a video featuring some other products that I will be using in addition to my normal routine to get my skin photo shoot ready for our engagement photos!
I'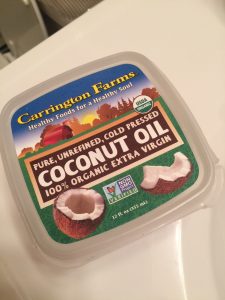 d love to hear what your favorite skin care product is at the moment. Anything I should try? Any questions for me? Let me know!