Fellow basic bitches (and bros), we've made it! Autumn is here, and I am so ready for it.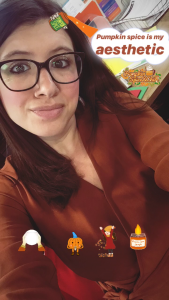 With the change of the seasons can come some sniffles, but it does not have to be a total buzzkill or stop you from enjoying Fall festivities!
Did you know that Fall allergies can be just as severe as Spring ones? Just because there isn't green stuff everywhere, does not mean there aren't allergies out there. To combat this, we keep our air purifier going strong overnight, every night (this also helps with cat hair and dander!)
I suffer from Fall allergies, but the past few days, I've been waking up feeling a little sick. I honestly can't tell if it's my allergies, a reaction to getting the flu shot recently, or just the beginning of a Fall cold since everyone at work is sick! So I'm doing what I can to make sure I stay healthy, no matter what, since I have a jam-packed weekend of Fall fun!  For me, allergies can quickly become a cold, and for me, colds immediately become sinus infections, and I cannot be having that! So as an autumnal expert (yep, made that up), I thought I'd share some of my tips with y'all!
doTERRA Essential oils: Since we cannot diffuse them in the house because of Rick O'Shea, I use them in other creative ways. When I feel *something* coming up, I apply On Guard on my wrists, behind my ears, and on my feet. I also add 4-5 drops of Eucalyptus oil to a hot running shower, which totally opens up the sinuses and helps with headaches. And, Peppermint oil is perfect to cool you off when it's a hot tailgate, help with tight muscles from being sick, alleviates nausea, and also clears up the sinuses. Before applying any directly to your skin, do a test with one drop to the wrist. If you need to use a delivery method, try coconut oil or a simple body lotion.
Supplements: In addition to a multivitamin, I take extra Vitamin C when I feel even slightly under the weather. There are tons of options out there, including Airborne, Emergen-C, or plain Vitamin C. It can't hurt, even if it's just allergies and you're not sure! I've also been taking extra magnesium and omegas to help with the stress and anxiety that comes with my busiest season at work!
Tea: Tea is so lovely, and Fall is the perfect time to cozy up on the couch with a hot mug of tea (or even hot water with lemon). Depending on what kind of tea you're into, it can be so detoxifying, comforting, and soothing. A little honey and lemon help with sore throats and all things yucky!
Anyway, if you feel yucky, see a doctor, because I sure as heck ain't one! But if allergy meds and homeopathic remedies aren't working for you, you're probably sick, so seek medical help! Now that we are feeling healthy, I thought I'd share some of my favorite Fall recipes with you. These are easy, crowd-pleasing Fall staples.
Classic 3-Bean Chili 
Today, I'm making a huge batch for a chili cook-off. You can cut this in half to make a size perfect for a family instead of a crowd.
What you'll need: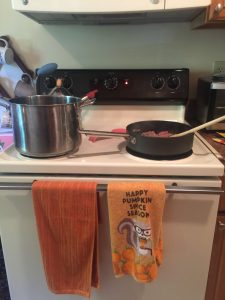 Meat (2 lbs. of ground turkey or grass fed beef)
Canned peeled tomatoes (one large can)
Canned diced tomatoes (one large can)
Tomato paste (about 3 tablespoons)
Beans (dark red kidney, pink, pinto; but you can use what you prefer)*
Onions (about one cup – to avoid having to cut and cry, I use frozen chopped)
Garlic (one clove, chopped)
Chili pepper, cayenne pepper, crushed red pepper, taco or Mexican seasoning, black pepper (to taste)
Broth (vegetable or bone is my preference; about 2 cups)
Beer  (lager or pale ale; or if you're a simpleton: Corona or Modelo)
*If you're making vegetarian chili, add black beans and corn!
Normally, on a nice Fall day, I'll make my chili in a slow cooker. Today, because I am making a large batch, it's in a stock pot on the stove top. Either way, the recipe is pretty similar. Also, full disclosure, I don't really measure when I cook, so these are all guestimates!
Add onions and garlic into a pan, saute until soft. Add meat and cook until browned. Add tomato paste and Mexican or taco seasoning packet. While cooking, add peeled and diced tomatoes to your pot. Once meat is cooked, add to pot and stir in. Drain and add beans (as many as you'd like!). Season to taste. Let simmer. Add broth and beer (half a bottle or can, let cook down before adding more, or drink the rest!). Let simmer, let simmer, stir, let simmer. Taste and season. Add more tomato paste to thicken if needed.
Best served with cornbread, sour cream and shredded cheddar cheese. And beer. And football.
Apple Cider Cocktail 
What you'll need:
Apple cider (half gallon)
White wine (1/2 bottle)
Apples, washed and sliced (2-3)
Vodka (vanilla or caramel; 1/2 bottle)
Recipe amounts vary depending on serving size. Combine it all. Serve in pitcher, spout pitcher or punch bowl. Be sure to include spoon for boozy apples. Garnish with cinnamon sticks. I prefer this with caramel vodka, but today, I had a half bottle of vanilla in the freezer, so that's what I used! I also had an almost full bottle of apple cider white wine in the fridge. It's from a local winery, but it's too sweet for me to drink plain, but I knew it would be the perfect base for this drink! Cheers!