The title of this post should have been "Be thankful", but I took too long to write it because I am the worst blogger ever. Since it's a bit too far gone from Thanksgiving, it just had to wait until after Christmas. The idea was for it to all stem from my last post before the holidays: Be anxious, be thankful, be merry.
Anyway, when we last checked in, I shared with you all that my treatment plan for my anxiety is shifting and how I am coming off of my daily meds, seeing a therapist, and trying other natural remedies. In case you were wondering, this shit is hard. I've second guessed myself on dozens of occasions, wondering if I am too batshit crazy to come off of my meds. I've wondered how I could see my therapist, feel great, and have a meltdown the next day. But my anxiety will always be a part of me. Whether I treat it with daily meds, once-in-a-while meds, no meds, herbal meds, therapy, you name it, it's a piece of me, and how I manage it will always vary. Most importantly, it's in my control.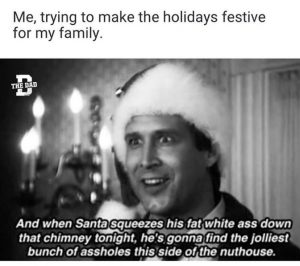 By the end of December, I'll be completely done with Lexapro. For the past few weeks, I've only been taking .25 mg per night, which my therapist says is like, next to nothing. It is her hope and plan that my primary care physician will prescribe me Xanax so that when the occasional meltdown does come up, I'll be prepared. Hopefully knowing I have that option will help, and I'll continue to try new things, and of course, see my lovely therapist every two weeks (more often, if needed). I'm a huge proponent of therapy, and think everyone should go. It can be hard to find one that works for you, but if you can, and do, it's major!
In other news, I've been trying to practice gratefulness, especially around the holidays or when things feel like too much. I don't know about you all, but being or feeling grateful when promoted (like around Thanksgiving when it's common to hear "what are you thankful for?") is one thing, but truly practicing gratefulness is really hard for me, especially when it feels like there is not enough money for a wedding, not enough room in an apartment, not enough opportunity at a job, everyone else's lives look better on social media, etc. But, I've been trying, because I know how truly lucky I am.
The holidays have felt a little different this year, for many reasons, and I'm surprisingly okay with it. Things change, but the one thing I need for it to feel like the holidays is tradition. So, Andy and I had two Thanksgiving dinners this year so we could finally spend it together and see both our families. I don't mean two dinners in one day, I mean, two full days! We spent Thursday with the Fagioli crew and spent Friday with my mom and brother. Two days of feasting, family, and of course, thankfulness. See? I told you I am lucky.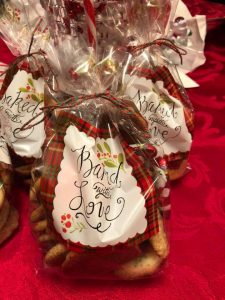 Regardless of what is going on in life, my family and I always make our traditions happen. Baking cookies with mom, Polar Express and Jets games with my brother, calendars for everyone, Christmas tree brownies for my cousin, The Grinch on Christmas Eve, Grandma's Christmas vest… THIS is what is important. The rest is all extra! I can safely say that while this time of year is busy and stressful, if you allow yourself, like I've done over the past few years, to just be present and experience it all, it changes everything. I've learned about myself that so much of the holiday pressure for everything to be perfect came from myself, and I've started to uncover why I've felt that way and why I've recently been letting myself off the hook. Don't get it twisted though, I am still Little Miss Christmas, and I'm all about spreading the merriment, so long as it doesn't make me crazy!
So it's the day after Christmas, a day where lots of folks are sad because the holidays are over. I used to get über freaking depressed on this day. But for the past couple of years, I try not to let myself. It is not easy, but I just keep Christmas in my heart for as long as I can and continue to celebrate with family and friends. I loathe New Years' and January, so I try just stay merry for as long as I can! My therapist recently reminded me of something that is so true for me and many others who battle anxiety and depression: You've got to have something to look forward to. So while the beginning of the year may be a little blah, 2019 is going to be amazing! I get to marry my best friend, and hopefully some other cool stuff  happens too. 😉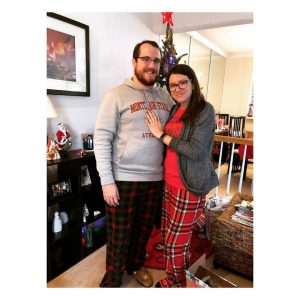 Speaking of the wedding, if you're like everyone else I talk to, you want to ask me how wedding planning is going. And, I'll respond that it's going really well, thanks for asking! We're sort of in a lull right now with the holidays and besides some little odds and ends, don't have much to do until the Spring at this point, besides to save, save, save!
I want to conclude by saying what a wonderful Christmas I had with my fiance and family. This is not to brag. I've had some shit Christmases where keeping up appearances of my elf life have been damn near impossible. So I am saying this because I am thankful. I had a darling tradition filled Christmas Eve with the Albanese clan of NJ and friends. Andy and I had a cozy night and morning enjoying the holiday with our pets and reveling in the fact that next year for Christmas, we'll be married. We then went to my mom's for brunch and were spoiled with food and gifts, and most importantly, peace. My brother lit a fire, a Christmas Story played, and everyone was cozied up. It brought me to tears, the absolute peacefulness of it all. We then headed to my in-laws to have yet another peaceful meal. Boy,  were we full. Bellies and hearts. Then we stopped to see more family, including Andy's nephews, the only kids we saw this holiday and got a nice visit in with more family. Of course, the holidays are just not the same without my future father-in-law, but we feel him there with us, and spend the time sharing stories, the way he would. I am looking forward to seeing more family in the coming weeks, as I love and miss them dearly. Something else to look forward to!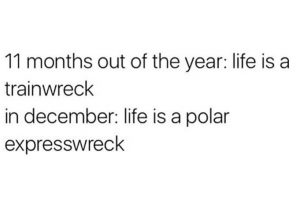 So, if your holidays were not peaceful, I've been there. I have so been there. I'm sorry. I hope your heart finds that peace soon. And if you're feeling anxious or depressed this season, you're not alone. Reach out to me, I am here for you. I do hope that overall, your holiday seasons are filled with thankfulness and merriment.