I love to cook and bake. I love having control over something, obviously. It's therapeutic and relaxing. While I love finding and following recipes, my favorite thing to do is make things up based on what ingredients we have in the pantry and trying new things. Below are some recipes for meals or treats that I've shared on social media recently. Enjoy!
Chicken Noodle Soup
I think I've only made this classic soup twice ever. Most recently, I made it when I was feeling under the weather. That being said, I wanted to take some short cuts and make it as easy as possible to whip up a batch of comfort food.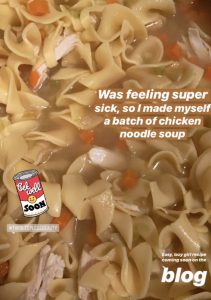 Ingredients
Rotisserie chicken
Chopped carrots
Chopped celery
Chopped onions
Broth
Egg noodles
Pull chicken apart. I started with about five palm fulls and then added more as needed. In a large pot, bring both to a boil. I prefer bone broth, as it has great benefits for anti-inflammation and is approved on most diets, but you can use whatever kind you prefer. I filled the pot just about half way Then, I added in about 3-5 cups of egg noodles and let them cook until about al dente. Then, add in the veggies. Because I literally cannot chop onions and despite having lots of cool kitchen gadgets, don't like chopping vegetables in general, I love that ShopRite sells pre-chopped vegetables. It's a lazy (and this time, sick) girl's dream. Add in what you want, depending on how vegetable dense you like your soup! Voila!
Because this was a day that I was home from work, I let the pot simmer on the stove all day, and added seasoning in here and there. All I used was garlic salt and black pepper, but you could do whatever you want. I added about a half cup of water about halfway through and that was that! So delicious and comforting!
Chicken Taco Macaroni
So, this was a totally random and made up thing that I made. I was craving something cheesy. And pasta-y. So, I took a look at what we had and came up with this dish.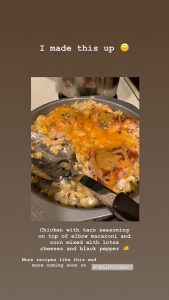 Ingredients
Chicken breasts
Macaroni
Canned corn
Taco seasoning
Ricotta cheese
Shredded Cheddar cheese
Start with two chicken breasts (or four, based on how many servings you want). You can also do a big batch of this with a whole package of breasts in a large baking dish. Sometimes we buy a whole package of chicken breasts, but most of the time since it's just us two, we buy the individually wrapped ones. Sprinkle with with taco seasoning (about half of a packet for two breasts). Bake in a small or medium baking dish (lightly sprayed with Pam) for about 10 minutes. Meanwhile, boil water and cook the macaroni to al dente. We had an open box of elbow, so that's what I used. For two servings, I used half the box. Once cooked, drain and reserve about a 1/8 cup of the water and mix it back into the pot. Add to that a can of corn, drained, and about 3-5 tablespoons of ricotta cheese (that's what I happened to have in the fridge and we needed to use it. I'd also use sour cream or Greek yogurt). I didn't measure well, just based on consistency. Turn the heat back on under the pot so that the cheese gets melty and the pasta and corn start to blend together. Season as you'd like (I did garlic salt and A LOT of black pepper. Noticing a pattern here?)
Take the chicken out of the oven and remove from baking dish. Either in that same dish, or a new one, and layer the macaroni and corn mixture in the pan. Top with the chicken breasts, and then top all of it with shredded cheddar cheese. Bake for about 10 more minutes until the chicken is fully cooked and all of the cheese is melted.
Baked Chicken and Roasted Veggies
I never liked brussel sprouts. Andy loves them, so I make them from time to time. Now, I love them, and look for excuses to make them. We had those individually wrapped chicken breasts, lots of baby spinach, and a bag of frozen 'roasting' vegetables (mainly squash, onions, and brussel sprouts). I could have just made regular chicken cutlets and had the vegetables on the side, but I felt like making something pretty.
Instead of pan frying the cutlets, I decided to bake them so that there was less oil. My favorite way to bake chicken is to dry off the cutlets and spread a small amount of Trader Joe's Vegan Spread (you can use mayo if you prefer) and top with Panko breadcrumbs. Sometimes, I even add Parmesan cheese, when I'm feeling CUHRAZY!
Ingredients
Chicken breasts
Baby spinach (fresh)
Whatever fresh or frozen veggies you want
In a medium baking dish, add the frozen roasting vegetables with some olive oil and salt/pepper (or as instructed on the bag) around the perimeter of the dish. In the center, add the  cutlets topped with the vegan spread and Panko breadcrumbs. Bake for 15-20 minutes, until the chicken is fully cooked. While that's baking, saute about two cups of fresh baby spinach in a small amount of oil. Depending on how much spinach you want, use a lot, as it cooks down majorly. Season with lemon juice and your favorite seasonings. Yes, I used garlic salt and black pepper. I'm so predictable!
Remove the baking dish from the oven and top the chicken with the sauteed spinach. Super healthy, pretty, and delicious!
Taco Soup
All Weight Watchers junkies know about this taco soup. It's zero points, and if you make a big enough batch, you get tons of meals out of it. You can dress it up and add to it if it starts to get boring after a few dinners and lunches. Here is my take on it!
Ingredients
Ground turkey
1 can of Rotel
1 can of diced or stewed tomatoes
2 cans of beans
Onion
1 cup of frozen corn
1 packet of Taco seasoning
1 packet of Ranch seasoning
This soup is ideal for a slow cooker, but you can totally make this on the stove top and let it simmer, if you'll be home. You can also switch out the ground turkey with rotisserie chicken and totally save yourself a step. If you use the ground turkey, what you do with it depends on how you're making it. If you're using a crockpot, you can just add the uncooked, thawed turkey in at the bottom so it cooks first, and well. If you're cooking on the stove top, you should brown the meat first. Either way, it should be thawed. And, to make sure the recipe remains zero points, you should use 99% lean.
To make this, you're essentially going to add all of these ingredients into the crockpot. Add 1 1/2 cups of water and let it do it's thing. No need to add broth, but you can add more water as needed to ensure that you have soup, and not chili. You can use whatever beans you have or like. This makes a great dinner and is even better for lunch the next day. To mix things up, snack on some tortilla chips with it, make a tortilla bowl to eat it out of, top with fresh sliced avocado, sour cream, cheese, hot sauce, etc. 
Pineapple Shrimp and Rice
While on Weight Watchers, I like to try new things while incorporating as many zero or low point foods into them as possible. We don't make seafood often, but it's a nice change of pace from chicken breasts and ground meat recipes. Funny story about this one. I plan out our meals for the week and write them on a cute menu board in our kitchen. Andy looked at whatever day I recently made this and said "Oh, we're just having shrimp and rice for dinner?" and I was like, darn, I guess I better make it more exciting than that, so I took a look around at what we had laying around…
Ingredients
Peeled and deveined shrimp
Orange marmalade
Frozen pineapple
Honey
Soy sauce
Chili powder or seasoning
Garlic salt
Crushed red pepper
Cauliflowered rice
Because I am lazy and easily grossed out, I like to buy my shrimp already peeled and already deveined. Depending on freshsness and what is on sale, we buy fresh or frozen. Either way, you're going to want to measure how much shrimp based on your serving size. I'd estimate that I used about 3-5 cups of small shrimp.
Cook the shrimp completely in just a tiny bit of oil. Add about a tablespoon of orange marmalade, and add more to taste if needed. Same goes with the soy sauce and honey. What you want to create is a light, tangy sauce that coats the shrimp, so add more or use less as needed. Then add in the chili powder (we like the chili lime seasoning from Trader Joe's), garlic salt, and crushed red pepper (my other favorite seasoning) to taste. Add in about 2-3 cups of frozen pineapple and let it cook until the pineapple is soft. The juice adds a nice sweetness to the sauce.
While this is cooking, make your rice. We use either cauliflowered rice or brown rice, and we are huge fans of the bags that you can steam in the microwave. Plate your rice and add the shrimp and sauce over it. Enjoy!
Energy Bites
Oh, these are so fun and so easy, but soooo messy to make. I make these for Andy to snack on instead of the massive amounts of candy and snacks in his office. I've made a few varieties, mostly ones I've found on Pinterest, and you can certainly do the same. Some of my favorite ones include carrot cake, pumpkin spice, and chunky monkey. But Andy's favorite ones are the classic peanut butter and chocolate chip energy balls, so here's my take on those.
Ingredients
Honey
Peanut butter (creamy)
Old fashioned oats
Chocolate chips
Ground flax seeds
Chia seeds
Let's not over complicate things here. Your going to mix this all in a bowl, roll it into balls, and pop them in the fridge. Measure out about 2 cups of rolled, old fashioned oats. Add to that 2 tablespoons of honey and 2/3 cup of peanut butter. You can add more oats or honey based on the consistency. Mix the mixture by hand. It should be super sticky, but you should be able to form balls that keep their shape. Continue to mix, and add in the ground flax seeds and chia seeds, or a blend of both if that's what you have. If the mixture is too sticky, I'll sometimes add in peanut butter powder to help the balls keep their shape better and add some more peanut buttery taste.
Roll your mixture into a dozen balls. If it's still hard to work with, stick the bowl in the fridge for about 15 minutes first. Once you roll the balls, store in the fridge. I like to put mine in cupcake liners to make for easy packing.  These make for a great protein and fiber packed breakfast or snack. Bonus, they are vegan and gluten free!
Panettone Bread Pudding
This is a dessert that I absolutely must make for Christmas. Except, this year, I didn't make it until New Year's. But, that's okay, because it was totally still the holidays and it totally counts. Since we did not host any gatherings this Christmas, I didn't even think to make it. When I realized something was missing, I knew it was this deliciousness. So, after Christmas, I went and got my ingredients. I usually make one big batch to serve and send family home with leftovers. This year, I made two small batches – one for us, and one for my future mother-in-law, the biggest fan of my Panettone bread pudding.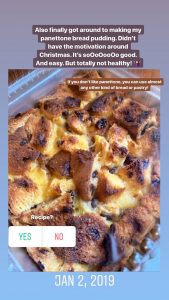 Ingredients
Panettone
8 Eggs
Heavy cream
Milk
Cinnamon
Sugar
This recipe is super easy, but this dish is so not healthy, so consider yourself warned! If you really don't like Panettone (Italian fruit cake), you can buy the chocolate chip version, but it is just not the same, I'm telling you! Bread pudding can be made with pretty much any kind of bread or pastry, but there is something just so Christmas-y about this version.
Anyways, cut your 1 lb. loaf into one inch cubes. Arrange the cubes in a lightly greased baking dish (Pam for baking works best). In a large bowl, whisk together or use a stand mixer to combine 8 eggs, 1 1/2 cups of cream, 2 1/2 cups of milk, and 1 1/4 cups of sugar until blended. Pour the custard mix over the bread cubes and gently press until all cubes are submerged and coated. If you're hosting and entertaining, you can do this up to two hours in advance and store, covered, in the fridge (or on the patio if it's cold enough and your fridge is full because you're hosting, a la me).
Preheat your oven to 350 degrees and bake for about 45 minutes to an hour. The pudding should puff and the tips of any cubes poking out should be lightly browned.
Some tips…
When I first found this recipe years ago, it called for a cinnamon syrup to go on top. However I learned that the syrup does not travel well, so it's not ideal for leftovers or if you're bringing this dish somewhere for the holidays. Instead, I simply sprinkle the bread pudding with cinnamon to taste.
This stuff is even better leftover, but heat up your serving before having it (whether it's whatever is left in the pan or just an individual bowl).
When shopping for my ingredients, I sometimes make substitutions. Because we are lactose intolerant, it doesn't make sense to buy a whole bottle of cream or whole milk. So sometimes, I'll substitute the whole milk with almond or soy milk, but you may need to increase the amount. You can't really skimp on the cream, but if you don't want to buy a bottle of it, the small cartons are just about the serving size, plus a splash or two more for some coffee.
While I associate this with Christmas, you can make it year round using any type of leftover pastry, cake, or bread!
No need for garlic salt or black pepper!
Well, I hope that you enjoy these recipes. When motivation strikes to get creative in the kitchen, I hope these are good starting points for you. And, don't forget that short cuts exist for a reason, so no shame in cutting some corners! I'd love to hear your feedback in the comments section.