Today was a rare, elusive snow day, so I got to spend some time doing stuff around the apartment including mulling some spices and making Weight Watchers desserts. Ya know, the usual stuff.
I also got around to writing this little ditty about a few things that are part of my routine lately. Some of them are skin care products that I love, others are part of my wellness routine. My routine tends to change with the season, but some of these will be a part of what I do year round in an effort to be happy and healthy in 2019.
Skin Care
Jade Roller 
I bought this jade roller online about a year ago but am just finally starting to incorporate it into my regular routine. This thing is phenomenal. You can use it to relieve sinus pressure and water retention in your face, to help relax facial tension, and to help your skin better absorb product. I like to use it to help get rid of the dark circles and bags under my eyes, help alleviate pain, and apply eye creams and serums. It feels nice even just to roll your face when you're tired or sick. After just a short time, you should see some color come to your cheeks and some definition to your face. There are a ton of options online, just make sure you buy a real jade roller from a reputable seller. Pro tip: Stick it in the fridge for some cooling relief.
Nugg Face Masks
Andy/Santa put these in my stocking for Christmas.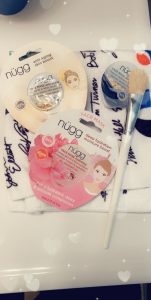 I'd never heard of this brand before, but I love them. I have a variety pack of pods, each mask for a different skin concern – detoxifying, brightening, moisturizing, anti-aging, etc. I've used two so far and I'm trying to savor them. They're designed to be single use, but I try to stretch them into two uses. They don't dry too much or get too tight or stiff on your skin, they feel and smell fabulous, and they come off easily. I know that sheet masks are all of the rage, but call me old fashioned, I like a nice brush on mask that I can apply with my skin care brushes.
Rodial
Rodial is a line that I used to sell in one of my early skin care jobs. It's an expensive line (thanks to a contact at Vogue for hooking me up with these!) and I happen to love their stuff. I'm lucky enough to have two of my favorite ones on hand right now from their Dragon's Blood line. One is a hyaluronic mask that soaks in, and you don't wash it off. You just apply a thin layer to clean skin and go to bed. They also recommend it for flights. I like to put it on at least 30 minutes before doing my makeup. It evens and plumps up your skin, filling in fine lines and wrinkles, so it's a nice base.
The other product is a cooling eye gel that feels great morning or night. I like to use it under my eyes as well as on and below my brows. This feels especially wonderful after tweezing! It's hard for me to find non-irritating eye products. And, even better, I instantly notice the results of this one. Just like the mask, it's a great base under eye makeup.
Dry Body Brush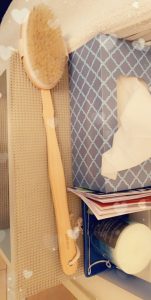 If you're not dry body brushing, you have got to start. Dry body brushing helps cure dry skin and stimulates circulation. It seems weird at first, but you'll soon be addicted. Your clothes will feel better on your body, I promise you this. You'll use less body lotion. Your skin will be smoother. Believe me. You should always brush towards your heart. Do this before you shower. Your skin should be dry.  So, start at your feet and go up. Start at your wrists and brush towards your torso and heart. I like to focus in on my elbows, knees, and back of my legs, where my skin is the driest. Doing this daily will not only increase your sensitivity to it, but will help your skin in so many ways!
Wellness
Natural Toothpaste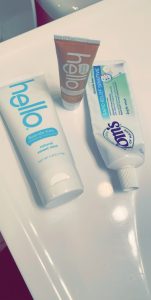 Lately, I'm paying more and more attention to what ingredients are on the labels of the products I use. This includes, but is not limited to, the toothpaste that we use. While we are concerned with sensitivity, whitening our teeth, and protecting them, we don't love the idea of brushing our teeth with tons of chemicals. While brands like Tom's and Hello aren't perfect, we find that they have way fewer bad things in them then most other brands, and are working really well for us.
Supplements 
It's no secret (on my blog) that I struggle with anxiety and insomnia. As you may know, I've somewhat recently gone off one of my prescriptions for anxiety and taking more supplements. In addition to dealing with my anxiety and insomnia, I'm also working on managing my weight, cholesterol, colitis, and just overall health.
As soon as the new year kicked off, I started a new routine of supplements. In addition to my multivitamin in the morning, I take turmeric (a great anti-inflammatory) and a lactose digestive support probiotic. Around lunch time, I take a fish oil and micronutrient capsule that helps me manage stress. Before bed, I take passionflower extract (natural anxiety relief) and magnesium/vitamin D/calcium (good for sleep, bones, diet, and overall health). In addition to this, I've also been incorporating collagen, fiber, vitamin C, and CBD oil into my routine as needed.
Upright Go
Okay, this may be my actual favorite thing right now. It's annoying as heck, and that's why it works. I bought this little guy for less than $70 on Amazon. It's a small device that syncs to an app on your phone. You stick it to your upper back and when it's in training mode, it vibrates when you slouch. In tracking mode, it keeps track of how long your slouching or sitting upright. This is huge for me, as my poor posture (thanks, desk job!) is a huge reason for my back pain. Also, I'm trying to not be a hunchback at my wedding, so I am hoping this helps!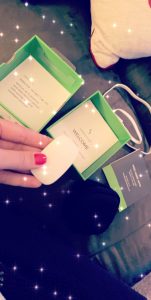 So, these are just a few things that I am really into right now. Since I love them, I thought I'd share them with you all in the spirit of us all having a happy and healthy 2019!