Andy and I are huge proponents of local breweries. But we have admit: Vermont has got it going on. Disclaimer: We haven't actually gotten to visit these breweries yet, so these are our "from home" reviews.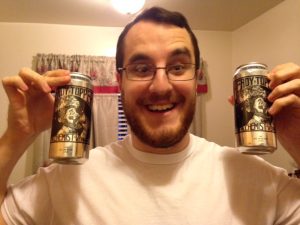 We are also lucky enough to have a fridge full of some of the best Vermont based beers out there: Sip of Sunshine by Lawson's Finest (you can argue that this is a CT beer, but that's a technicality, so back off), and Focal Banger and Heady Topper by The Alchemist.
The first time Andy and I had Heady Topper, was for his birthday two years ago. Our friend Tara was able to score me some and have it shipped in time for Andy's birthday.
Since then, we've been able to get our hands on some here and there, but nothing like lately. A fridge full of these bad boys has been a real treat. Special shout out to Andy's pals Keith and Nate for keeping us stocked up.
Below are our collective thoughts and our scores out of ten!
Lawson's Finest: Sip of Sunshine
The name is the perfect description of this beer. It's fruity, tropical and really juicy. I could drink this beer at any time. Compared to other IPAs, not as hoppy and much more full-bodied. It's light enough to drink with food, but also a great stand-alone. You definitely don't want to slug a ton of these back to get hammered (does anyone still drink beer for that purpose? If so, stick to your light cans, kids), but you'll definitely catch a buzz after a couple, as it has an 8% alcohol content.
Stacy's Score: 9/10
Andy's Score: 8/10
Alchemist: Focal Banger
I'll start by saying that Andy prefers this over what many people claim to be the best beer, Heady Topper. Personally, I like them both the same. It's definitely hoppy, so if that's not your thing, don't bother. There's really no balance of malt with the hops. It has a 7% alcohol content, but is a really drinkable beer, according to Andy. I disagree, as it takes me a long time to finish one. That's not necessarily a bad thing, so just my two cents. Andy also says it smells heavenly, so okay. Stacy says it makes a great shower beer. One more thing: drink it from the can.
Stacy's Score: 7.5/10
Andy's Score: 9.5/10
Alchemist: Heady Topper
Ah, Heady Topper. We used to be so obsessed with finding this beer, and now it's so strange that we have a fridge full of it and can so casually go grab one. Much like it's friend Focal Banger, it's very hoppy, but, this one has much more balance in terms of malt. So, at first taste, it's full of hops, but has a nice smooth finish, which I think is why I prefer this one over Focal Banger. I like hops, but prefer a nice balance and less bitter aftertaste. This is another example where I would not sit and drink more than one of these in a sitting. We've found it pairs nicely with everything from takeout to steak and fish. Andy notes that many breweries have tried to copy this recipe, but do not succeed. Another pro tip: drink it from the can.
Stacy's Score: 8.5/10
Andy's Score: 9/10