Long time, no blog, eh? Things have been busy as of late, but I have a lot of good stuff to share with you all, starting with some more recipes. I got some good feedback about the last recipe post, so I thought I'd give the people what they want! I know personally, I follow a TON of food accounts on Instagram, and I find it so helpful when people share their healthy (or not) and easy recipes, so I thought I could contribute to the goodness and do the same!
Most of these recipes are healthy, some more than others. All of them, however, are easy!
Photo credit: Glitter Girl Stitches and Siri Daly. Yes, I bought this shirt immediately! 
Crispy Prosciutto Salad
This salad is loosely based on salad in Siri Daly's cookbook, Siriously Delicious. If you know me, you know I worship her, so I was kind of afraid to like, mess with her recipe? But, I got lazy, so I did. And, I tagged her on Instagram when I made it, and she was totally cool with it, so, we're obviously best friends now.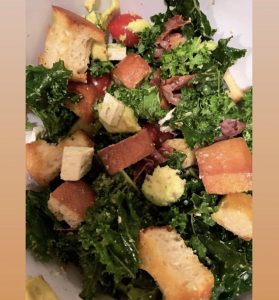 Ingredients
Prosciutto
Ricotta Salada (it's a hard version of ricotta and now I'm obsessed with it)
1 Avocado
Kale
Bread (stale is best to make croutons with)
Olive oil
Start by making the croutons! If you have Italian bread or a French baguette, or even a sourdough loaf, cut it into cubes, toss it in olive oil, spread it on a sprayed baking sheet with foil, and bake in the oven. You can lightly season them, if you want. Bake them about 15 minutes, or until toasted to your liking!
While your homemade croutons are baking, toss about 5-7 handfuls of fresh, washed kale (depends on how much you want to make – also, I rip the leaves to be smaller and discard the stems). Pan fry a few slices of prosciutto in some olive oil until it starts to crisp like bacon and make your kitchen smell amazing (especially in combination with the croutons baking!). Remove those from the oil and place on a paper towel lined plate to cool and drain. Slice up an avocado and add to the kale, tossing lightly with olive oil, salt, and pepper. Lightly chop a couple of ounces of the ricotta salada cheese and add to the salad, tossing lightly. Add the cooled prosciutto and toss, then serve.
Shrimp and Corn Chowdah
I love food. Even when I'm dieting or when I'm full, I still think about my next meal. Sometimes I brainstorm or conceptualize tomorrow's dinner while trying to fall asleep at night. This recipe was born out of one of those moments. I knew I needed to use ingredients and food we already had in the house, and I knew that whatever I was making at the time, was going to need to go in the crock pot. This recipe still needs some tweaking, but I wanted to share with you!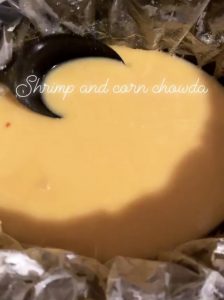 Ingredients
Shrimp
Frozen corn
Organic vegetable broth
Greek yogurt
Chili powder
Black pepper
Red pepper flakes
So, in the crockpot, put in your broth. While I always prefer fresh shrimp, we had some frozen shrimp in the freezer that we'd been using for stir fry and other recipes, so I wanted to use that up. When it comes to the corn, I'm going to insist you use frozen because anything else will get mushy in the crockpot. In terms of quantity, I used about 1/2 bag of small frozen shrimp (not jumbo), 1/3 bag of frozen corn, and enough broth to fill about half of the crockpot. I wanted this soup to come out creamy like a chowder, but not too heavy because of dietary restrictions and diets. So, I didn't add the Greek yogurt (about a cup) until I got home and the soup had been cooking in the crockpot all day. While it helped to make the soup thicker, the yogurt didn't cook down as much as I'd have liked. So, next time, I'll add 2 cups and I'll add it in the beginning! Season with chili powder, black pepper, and some red pepper flakes – lots of kick! If you're not on a diet, this would be so good with a nice piece of crusty bread! I let mine cook in the crockpot for 8 hours on low.
Buffalo Cauliflower
One of my favorite events to cook for is the Superbowl. Even more, I love adapting some of our favorite football food recipes or foods into healthy versions. This year, I had a spin class gathering that I co-hosted with my trainer and chiropractor. When we have those types of classes and events, we all bring healthy dishes. I had never made buffalo cauliflower, so I decided I'd give it a try for the class on Saturday and if it was good, I'd make it again for the big game!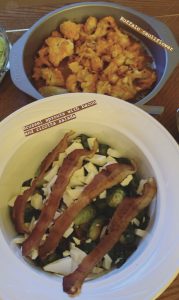 Ingredients
Cauliflower
Buffalo Sauce
Margarine
Almond flour
Garlic powder
When I first decided to make this, I was being super lazy. I was at Trader Joe's and was desperate to take shortcuts, but they didn't have any fresh, already chopped cauliflower. What I did find was a bag of frozen, grilled cauliflower, so that's what I used, though I don't recommend it. When I do it again, I'll either take the time to wash and chop a head of cauliflower, or I'll locate the pre-cut fresh one I was looking for!
Either way, you want to start with cauliflower florets. Mix 1/2 cup of almond flour (or brown rice flour or the flour of your choice) with a little bit of water (about 1/4 cup), a pinch of garlic salt, and any other seasonings of your choice. Whisk enough to make it a liquid batter. Dip/coat/toss the florets in the batter until they're coated, and place on a sprayed and foil lined baking sheet, spread out in one layer. Bake for about 7-10 minutes until crispy (flipping about halfway through). Remove from oven and cool for a few minutes, until the florets are firm, the batter is set, and you can handle them. In a small bowl, mix 1/2 cup of the buffalo sauce of your choice. Dip/coat/toss the florets in the sauce or brush sauce on with a pastry brush, and put back on baking sheet and bake for another 7-10 minutes, until crispy and the cauliflower looks like it has soaked up most of the sauce. Remove from pan and let cool slightly before serving.
Brussel Sprouts
In my 30+ years on earth, I honestly hadn't tried brussel sprouts, but I was certain that I did not like them. However, I was wrong! Andy loves brussel sprouts, so I decided I better give them a try, especially since I was making them so often!
When Andy told me he wanted sprouts for Superbowl, I decided that we had to make them just a little unhealthy, just because it needed to be football food, after all! So, I made this up and it came out pretty good!
Ingredients
Brussel sprouts
Bacon (uncooked)
Ricotta Salada (about a handful, chopped)
Olive oil
Salt
Pepper
I roasted fresh brussel sprouts as I usually do, tossed in olive oil, salt, and pepper (after trimming  and halving). After you roast them, throw them into a casserole baking dish and top them with chopped up ricotta salada and some uncooked bacon. Put them back in the oven for about 10-15 minutes, until the bacon is crispy and everything sort of combines together. Let cool and serve!
Well, I hope you enjoy these, if you decide to give them a try or put your own take on them. I'm no Chrissy Teigen, Martha Stewart, or Siri Daly, but I try! I'm all about eating healthy, trying new things, and getting creative, especially while using what we have in the house and trying to make dinnertime (or any mealtime) easy! I'd love your feedback, so please share! More to come soon!